Specifically located at Felix Huertas St., Santa Cruz, Manila, Celadon Park is a location that connects you to a number of well-known education and medical institutions as well as commercial and business districts. With only two hours away, Celadon Park is strategically located to reach important destinations such as, Binondo, the Makati Center Business District, and the Ortigas Center Business District.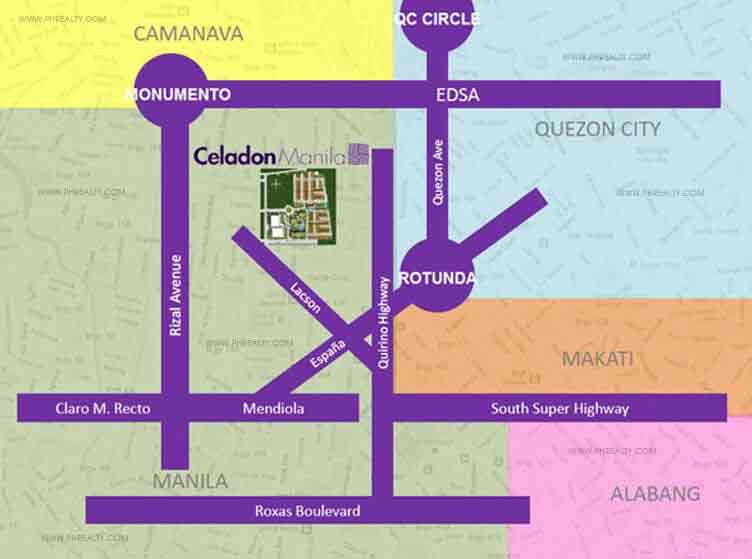 Celadon Park is located at Felix Huertas St. (former location of San Lazaro Hippodrome) in Sta Cruz Manila. There are several ways you can access this community depending on where you are coming from. The easiest ways are via Quezon Avenue from EDSA and via Quirino Highway when coming from Roxas Boulevard. If you are using public transport means, you can aboard a bus from the city to Felix Huertas. At the gate of Celadon Park, there is a vehicle drop off area.

Its location and design makes this place the best place to reside. Inside the community, there is a parking podium for residents and visitors. There are also parking podiums reserved for business units. In total, there are 468 parking lots, 461 for residential units and 7 for retail stores.
There are several physical features that make this community stand out as the best residential and business hub in Manila. The community is surrounded by reputable and well-established institutions, business districts and medical facilities.


Nearby Business Districts

Its convenient location makes its accessible to other business districts such as;
• Binondo which is about 2 km away
• Quezon City which is located approximately 4 km away
• Makati (8km)
• Ortigas (9 km)
From Celadon Park, you can directly access these districts at ease.


Nearby Schools

The project also nears public and private institutions such as schools and libraries. Students and trainers residing at Celadon Park can access nearby institutions including;
• Chiang Kai Shek
• Uno High School
• De La Salle University
• University of Sto. Thomas
• St. Stephen High School


Nearby Hospitals

Residents can also access healthcare facilities from the nearby medical institutions. Compared to other condominiums, Celadon Park has the highest number of medical facilities around it. From the condo, you can get enjoy medical attention from;
• Chinese General Hospital
• Metropolitan Hospital
• UST Hospital
• Manila Doctors' Hospital
The proximity of these healthcare facilities makes them suitable for emergency, outpatient and inpatient health services.


Nearby Retail Establishments

Besides its in-built mall, you can also access some of the best retail centres in Manila. The closest from this community are;
• SM City Manila
• SM City San Lazaro
There are a lot of entertainment and relaxation places you can visit. On the 5th floor of Tower 3, there is a meditation centre and exercise lawn. Here, you can have quiet time to meditate or choose to do outdoor exercises such as jogging.